Alps-Adriatic Beekeepers met in Đurđevac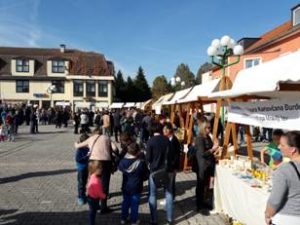 "Honey Day" is an important event in Koprivnica Križevci County (CRO)! That´s why beekeepers from Croatia, Hungary and Slovenia met in Đurđevac on October 14th and 15th 2017. During the two-day meeting, they attended professional lectures in the Old Town-fortification of Đurđevac, where they gained insight into Croatian beekeeping traditions as well as information on quality and quality assessment of honey and other beekeeping products. Another focus was laid on modern technological bee breeding measures, beekeeping business associations, product branding and product placement on the market.
During a visit to the family farm "Pintar" the beekeepers exchanged their experiences and also had a chance to see the newly renovated building of "Klaster pčelara Podravina" where honey-filling is planned in the near future.